Balixafortide (POL6326)
A potent blocker of CXCR4, a key molecule involved in tumor growth and metastasis
A potent, selective CXCR4 antagonist
Balixafortide is a potent and highly selective blocker of CXCR4. CXCR4 belongs to the transmembrane receptor class of G-coupled protein receptors (GPCR). CXCR4 is expressed in a variety of cancer types, and additionally, in the local tumor micro-environment by cells of the immune system 4, 5,6 . CXCR4 plays an important role in the metastatic process and allows tumor cells to migrate to sites where CXCL12, the natural ligand of CXCR4, is expressed, for example, into the bone marrow of breast cancer patients. We and others have demonstrated in preclinical cancer models a profound anti-tumor, anti-metastatic and pro-survival effect by latest generation of CXCR4 antagonists7.
Balixafortide's key attributes2,8:
Potent and highly selective CXCR4 inhibitor with anti-cancer response on preclinical models
Not cytotoxic at clinically relevant doses, ideal for drug combinations
Resulted from a stringent selection process to obtain favorable physicochemical properties without no CYP or HERG inhibition up to maximum tested concentrations
Potentially best-in-class relative drug exposure, compared to other CXCR4 antagonists in development.
Clear dose-response in the Phase 1b study in metastatic breast cancer, across all the efficacy endpoints.
References
1. Bayat Mokhtari et al. Oncotarget 2017; 8:38022-38043
2. Pernas et al. Lancet Oncol. 2018 Jun;19(6):812-824)
3. Sledge GW. Proc Natl Acad Sci U S A. 2019 Mar 12;116(11):4769-4771
4. Burger JA, Kipps TJ. Blood. 2006;107(5):1761-1767
5. Liotta LA. Nature. 2001;410(6824):24-25
6. Balkwill F. Semin Cancer Biol. 2004;14(3):171-179
7. Xiang et al. Mol Cancer Ther. 2015 Nov;14(11):2473-85. doi: 10.1158/1535-7163
8. Zimmermann et al. Annals of Oncology (2018) 29 (suppl_8): viii90-viii121. 10.1093/annonc/mdy272
CXCR4 also plays a critical role in tumor growth, survival, angiogenesis and metastasis9. High CXCR4 levels have been detected in almost all human tumor types, including breast cancer. High CXCR4 expression is known to correlate with aggressive metastatic behavior of cancer cells and a poor prognosis10. CXCR4 is a key player of innate and acquired immunity, both actions of the natural defense system in patients against cancer.
The anti-cancer effects of our latest generation CXCR4 antagonists such as balixafortide include direct suppression of metastatic spread, sensitization of tumor cells to chemotherapy, control of blood supply to the tumor, and favorable modulation of the immune system11,12.
CXCR4 is expressed on the surface of various immune cells, suggesting balixafortide could be involved in innate and acquired immunity. Indeed, in a previous clinical trial balixafortide led to mobilization of immune cells in healthy volunteers13. Accordingly, transiently higher white blood cell, neutrophil and lymphocyte counts were seen in the majority of breast cancer patients receiving balixafortide in combination with eribulin14. Previous in vivo and in vitro data showed that CXCR4 antagonism mitigates CD4+ T-cell exhaustion15, reverts the suppressive activity of cancer cell-protecting T-regulatory cells and M2 macrophages16, activates cytotoxicity of cancer-attacking immune cells17 and modulate immunotherapy with anti-PD-1 18, emphasizing the positive immunomodulatory function of CXCR4 antagonism. Moreover, a beneficial survival effect of balixafortide in combinatorial animal studies was reported. Such longer event-free and overall survival in breast cancer patients was also observed in the Phase 1 combination trial of balixafortide combined with eribulin2.
Based on its multifaceted modes of action, it is suggested that CXCR4 antagonism could play a crucial role in a range of therapies including chemotherapy and immunotherapies19.
Designing new medicines from a natural product
CXCR4 overexpression has been detected in more than 23 different human cancer types and correlates with a poor prognosis. CXCL12 activates distinct intracellular signaling pathways in tumor cells and stimulates proliferation, migration and invasion. However, CXCR4 is also expressed in multiple normal cells, including lymphocytes, hematopoietic stem cells, and endothelial and epithelial cells, where it contributes to the regular functioning of organs and tissue. It is hypothesized that reversible CXCR4 inhibition by well-tolerated, selective, potent and CXCL12-competitive antagonists such as balixafortide could have advantages compared to long-term blockade by therapeutic antibodies which induce apoptosis and have a limited tolerability.
The starting point for the design of such novel CXCR4 antagonists was polyphemusin, a naturally occurring peptide isolated from the horseshoe crab (Limulus polyphemus).
Polyphor has applied its PEM Technology to the discovery and optimization of fully synthetic cyclopeptide CXCR4 antagonists.
Structural models indicate that balixafortide occupies a large part of the receptor pocket when complexed with human CXCR4 (see illustration).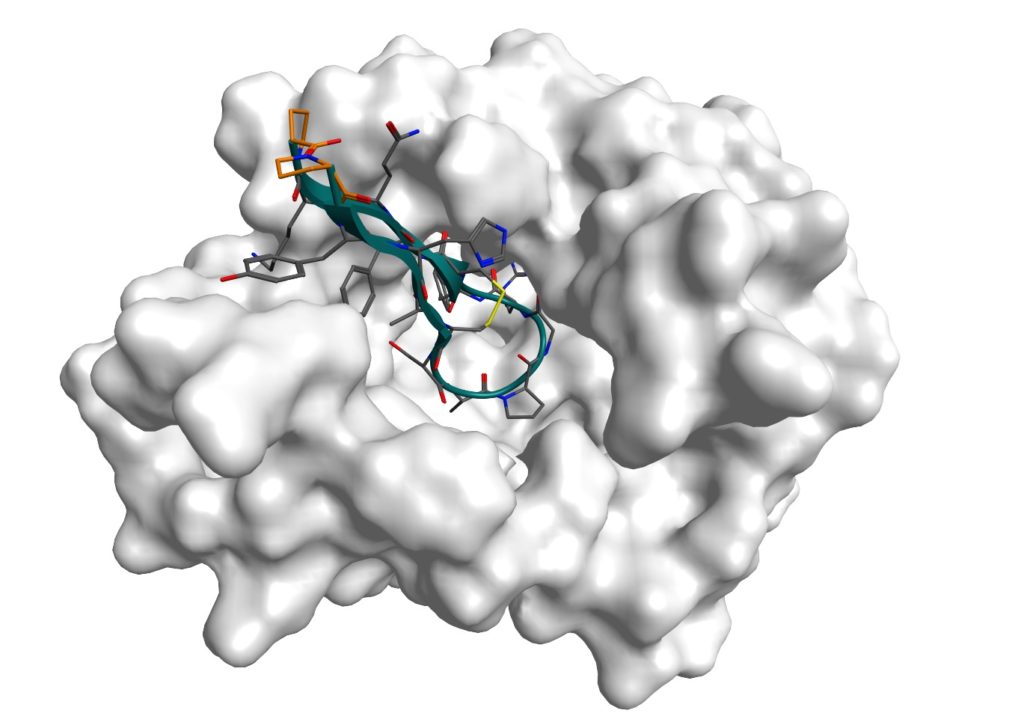 Illustration: Surface representation of the binary complex of human CXCR4 with Balixafortide*
*Data on file
References
9. Otsuka S, Bebb G. J Thorac Oncol. 2008;3(12):1379-1383.
10. Chatterjee S, Behnam Azad B, Nimmagadda S. Adv Cancer Res. 2014; 124:31-82.
11. Scala S. Clin Cancer Res. 2015;21(19):4278-85 .
12. Zimmermann et al. Mol Cancer Ther 2019;18(12 Suppl):Abstract nr A003. doi:10.1158/1535-7163.TARG-19-A003).
13. Karpova et al. J Transl Med. 2017 Jan 3;15(1):2
14. Zimmermann et al. Proceedings: AACR Annual Meeting 2019; March 29-April 3, 2019
15. Ramonell KM et al. PLoS One. 2017 Dec 12;12(12):e0188882
16. Chatterjee M et al. Cell Death Dis. 2015 Nov 19;6:e1989
17. Santagata S et al. Oncotarget 2017;8:77110–20
18. Chen Y et al. Hepatology 2015;61:1591–60
19. Cortés J, Holgado E, Perez-Garcia Oncotarget. 2018 Sep 11;9(71):33442-33443
Clinical Studies and further development strategy
Balixafortide has been investigated in eight clinical trials with a total of 462 subjects either as a single agent or in combination with other drugs. Six clinical studies have been completed.
Balixafortide has been investigated in eight clinical trials with a total of 462 subjects either as a single agent or in combination with other drugs. Six clinical studies have been completed. 
Most recently, Balixafortide has been investigated for advanced breast cancers in combination with eribulin. Clinical proof of concept was achieved in a Phase 1b study in combination with eribulin in patients with advanced metastatic breast cancer20, and the FDA granted Fast Track designation. The pivotal FORTRESS Phase 3 study was started in mid-2019 and the first patient was dosed in June 2019.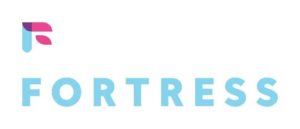 FORTRESS (POL6326-009) is an international, multicenter, randomized active-controlled, open-label Phase 3 trial which investigated the efficacy, safety and tolerability of intravenous balixafortide given with eribulin versus eribulin alone in the treatment of HER2 negative, locally recurrent or metastatic breast cancer (MBC). The study was designed for a total of 432 patients with HER2 negative MBC, with 348 patients receiving third or subsequent line and 84 patients receiving second line chemotherapy. On June 28, 2021 we announced that the combination of balixafortide (POL6326) and eribulin did not significantly improve objective response rate (ORR) over eribulin alone in the treatment of patients with HER2-negative, locally recurrent or metastatic breast cancer, missing the co-primary end point of the FORTRESS study.
Based on the analysis we have announced on August 3, 2021, the primary endpoint of the study progression free survival (PFS) was also not met. Pre-specified interim analysis of overall survival (OS) showed no statistically significant differences between study groups. Based on these results, the FORTRESS study is currently being closed. The analysis of the safety and tolerance of Balixafortide in combination with Eribulin in the FORTRESS study was consistent with the previously reported safety profile with a numerically higher number of patients having had serious adverse events in the balixafortide arm.
Following the negative outcomes of the FORTRESS Phase 3 study in advanced breast cancer, additional oncology and non-oncology indications for balixafortide will be evaluated, both alone and in collaboration with Fosun Pharma, who owns China rights.